In English we call it the "zip-line" as a hinge and a fantastic experience for lovers of adrenaline in green environment, certainly in Europe you can boast a good selection of parks with trails pulley and steel cables and bridges, but for those who want to get serious here is a list according to the Guardian, which takes its cue from a new opening in March 2013; starting in March the 16th  in Snowdonia in the Welsh (Wales), by Zip World, according to rumors, will provide the location of Europe's longest cable car.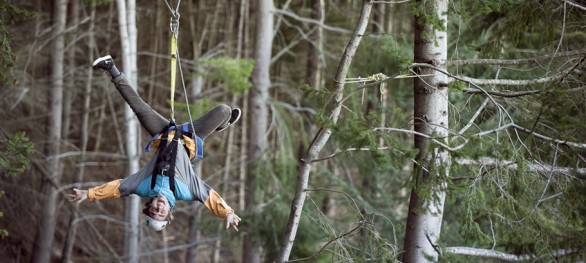 But if in the meantime you cannot resist, the advice is to work out in the following adventure parks scattered across the globe:
• Jungle Flight Chiangmai, Thailand
• Hollbank Treetops Adventure, Tasmania
• Fantasticable, Ardennes, France
• The Zip, Adrenalin Quarry, Cornwall
• Zzzip the Flying Fox, Bolivia
• Ziptrek, New Zealand (pictured)
• Zip Rider, Alaska
Ready then to circle the world? It is a really good excuse to venture along the planet and admire from a height tropical forests and natural parks, even if you do not know how well you will be able to see because in some cases, "the journey" in the cable car can reach almost 130 kilometers per hour .