Being able to travel and experience different parts of the world has truly impacted my life like nothing else. I can honestly say that even though not all my travel experiences are smooth sailing, I do walk away with both memories and stories to share. My latest adventure took me deep into the bush of Botswana and it did not fail in providing me with memories and mishaps.
First we had to take a 4×4 vehicle about an hour deep into the Okavango Delta. Once we reached the waters edge we were met by a team of locals who were there to take us deeper. Boats are the traditional 'mokoro', which is a dug out tree.. basically an African canoe. We sat two to a mokoro and each had its own 'poler'. The poler (a local), steers the boat standing up from the back with a really long stick. It was kind of like the African version of Venice. The delta waters are full of wildlife and some would say we are on the crazy side because these were especially full with crocs and hippos. You could literally see the hippos blowing water and grunting from afar. The scenery was simply beautiful with lily pads and lotus flowers surrounding us. We traveled by mokoro for about an hour until we reached land. From there it was time to carry the camp supplies further inland in the excruciating heat. I can honestly say that I was drenched in sweat by the time our camp was set up. Of course being in the bush there are no toilets, but the locals improvised and made us a make-shift toilet. About fifty yards from camp they set up a toilet seat that hovered over a hole. When you're finished your business your supposed to shovel dirt on top. I sure felt like a cat in kitty litter!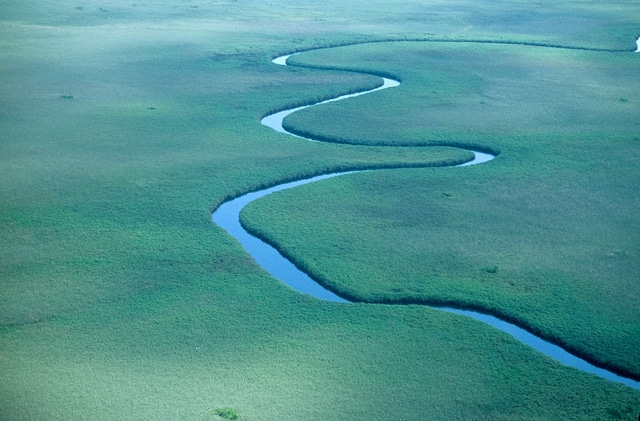 Image source: iwh50
Once we were all set up it was on to our next death trap. We traveled by mokoro to another area of water that looks…pretty much just like everywhere else. And once there, we were told that it was okay to jump in the water and swim. Did I mention that these are hippo and croc infested waters? Yes, yes I did! But the locals said we would be fine. They checked for crocs and it was all clear. As we all got in they were probably laughing and thinking 'you stupid *&%ing white people!'  Some parts were super sludgy and others had lovely sand bars to sit on. We played volleyball in the water and after our fingers turned into little prunes we headed back to camp. The whole time I was in the water I couldn't help but continually look over my shoulder with fear that a crocodile was right beside me.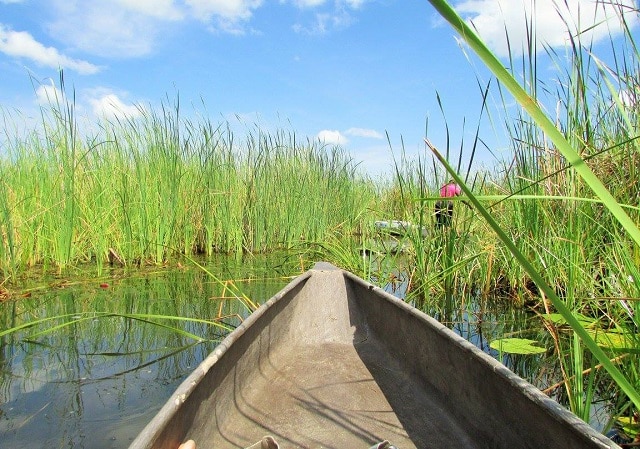 After this we were all exhausted from the sweltering heat so many opted out of the next 'effed' up activity. I couldn't pass up the opportunity to try everything so I went on the bush walk which others so fittingly named 'The Death March'. Still extremely hot out, a bunch of us went with the locals to find wildlife by foot. Did I mention that the Big Five are residents of the delta? Meters from our camp were fresh lion prints. But we kept on … for three hours we walked in search of anything that moved. It was amazing!!! Our first encounter was a group of warthogs and springbok. But soon it was giraffe and then an elephant. We got so close by foot that we were given instructions of what to do if the elephant starts charging us. I don't know if it's a combo of adrenaline and stupidity, but it was so cool. As our march continued we heard grunting from the waters. Here in front of us were easily 50 hippos. Incredible!!! Yawning and showing us their massive mouths we got quite the show. But not after long they turned towards us and started swimming closer and closer. Because they're not the swiftest on land we left at the last moment and continued on. When we thought we were done, we walked right into two massive male giraffes. They are such calm creatures, but boy oh boy they are gigantic!!! With their heads well above the tree line they just towered over us. It gives you a whole different perspective to see the animals on foot rather than in a vehicle. It was hard to walk away from them but our guide needed us to be back to camp before the sun set.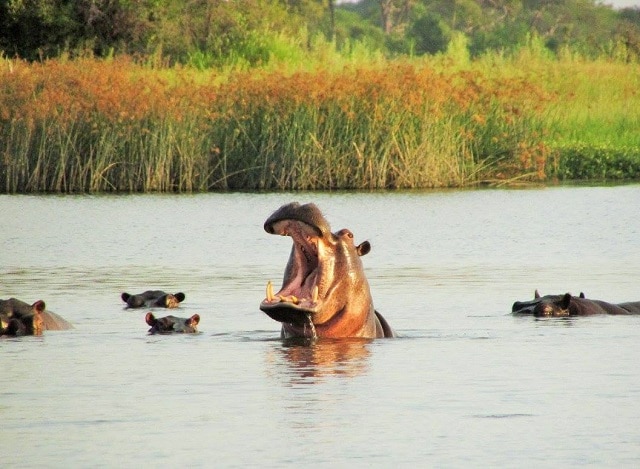 The night didn't end there. After dinner the locals sang for us. As well, a few of us were taken out of our camp and close to the shore so we could see fireflies. Thousands lit up the sky around us. This was simply breathtaking and made for a perfect end to the night!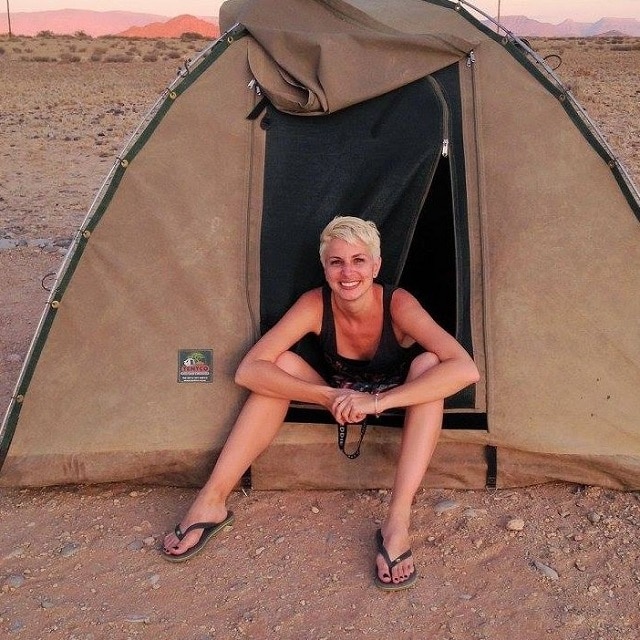 I survived to tell the tale of spending the night in the delta and this is one that I soon won't forget!
This story was written by Heather Halpern.
You'll also want to see: Botswana Selected As The Best Country To Visit In 2016 – Baines Baobab: under the blue sky of Botswana