Whoever says that Mallorca is an ugly island, then you are totally wrong my friend. Just go out of the usual "foreigner circuit " and explore the idyllic spots that only the locals know.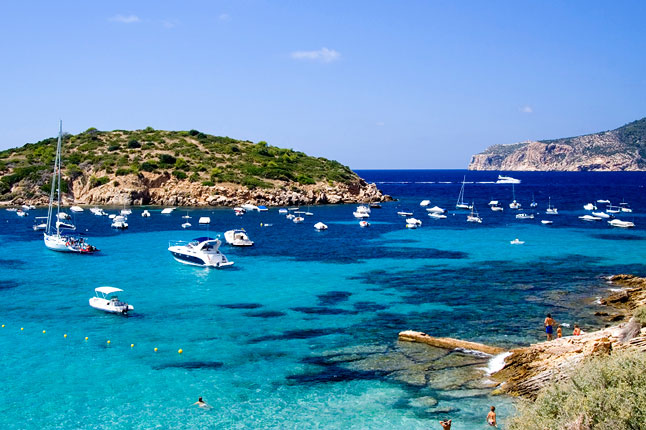 Menorca and Formentera are perhaps most heavenly, but there are still corners and beaches in Mallorca with crystal blue waters and fine white sand. It is not easy to find them, especially if there are not any clear native traffic signs and directions. Four years ago while booking our Mallorca holidays with Thomas Cook, we were seduced by the most spectacular corners of of the island and it is time to share them with you. Use them wisely 😉
BANYALBUFAR BEACH
In the northwest of Mallorca, past the village of Esporles, there is a beautiful beach called Banyalbufar. It is very small but has a peculiar charm: a cascade of fresh water down the mountain (a real natural shower). If you are of those who pass heat on the beach and you need to refresh yourself often in Banyalbufar you will feel at ease. Place yout towel near the waterfall: the water vaporisation by biting into the ground is really refreshing!
The beach is not sandy, it has stones, which makes the water completely transparent, but do not panic if you find some algae . And if you are of those who have sensitive feet, think of wearing slippers to enter the water.
VALLDEMOSSA
Near Banyalbufar there is a fabulous and charming village called Valldemossa. There you will find what I would say is the best almond horchata de Mallorca. More than horchata it's more like a slush, but very delicious! I would take now another glass. To accompany the horchata you can ask the Coca potato, a kind of brioche, typical of the area and also exquisite.
Caló des Moro Beach
If you want a beach of fine white sand, blue water of love, Abeche is your beach. Getting to it will not be easy, and once there, it will not be easy to plant your towel. But bathing in Abeche is worth the try: it is described as an oasis on the island of Mallorca.
In 2009 when we went to the spot, there was no indication to get to it. Luckily we were with our particular local guide.. and we were told where to go.