Skiing in June – now that's something you don't see every year in France. The coldest spring in over 25 years enticed hundreds of skiers to hit the slopes of Porte Puymorens. Initially closed for the season in April, resort management decided to reopen the slopes in June so skiers could enjoy the unexpectedly dense snow pack – and enjoy it they did.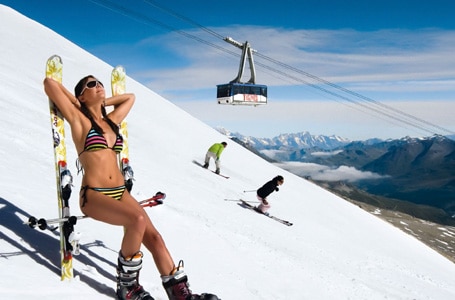 The southern France ski resort, located near the border with Spain and Andorra and about 800 kilometers south of Paris, has never before been open in June. Snow was 70-80cm thick, with snowdrifts of up to five metres deep. The cable cars handled up to 600 skiers a day.
Heavy snowfalls late in May also factored into plans to reopen Verbier, a ski resort in the southern Swiss Alps. The resort even took to Facebook, where more than 1,300 users showed their support for the idea by hitting the "like" button.
Unfortunately, a turn in the weather thwarted those plans. Despite enthusiasm from skiers who were looking forward to an extended season, rains forced resort operators to reconsider at the last moment. No doubt there were many disappointed skiers who had to make new plans for the weekend.
This spring's weather has been unusual throughout Europe. In stark contrast to recent years, where eight out of ten spring seasons had above average temperatures, the United Kingdom just concluded its coldest spring since 1962, and its fifth coldest spring since 1910. Springtime temperatures in 2013 averaged only 6° C. Recurrent easterly and northerly winds from polar and northern European regions have contributed to the unusually chilly spring.
While some people are disheartened by spring's cold temperatures, others find a way to make the best of it. Skiers are a determined group. Open the resort and they will come. As long as spring seems reluctant to turn to summer, they will take advantage of the opportunity to ski.
What next year will bring remains to be seen, but one thing is clear – ski resort operators are increasingly open to changing with the times – and the weather.
Photo: skinews