The Imperial Capital of Hue
Situated on the Perfume River, Hue has not only many historical associations but this is the city where Ho Chi Minh lived as a boy and where the North (culturally, not politically) begins.
Hanoi
Once an American may have felt treasonous going here but no more.  Surprisingly, despite the bombing, Hanoi is filled with French influences and architecture.  Visit Ho Chi Minh's mausoleum.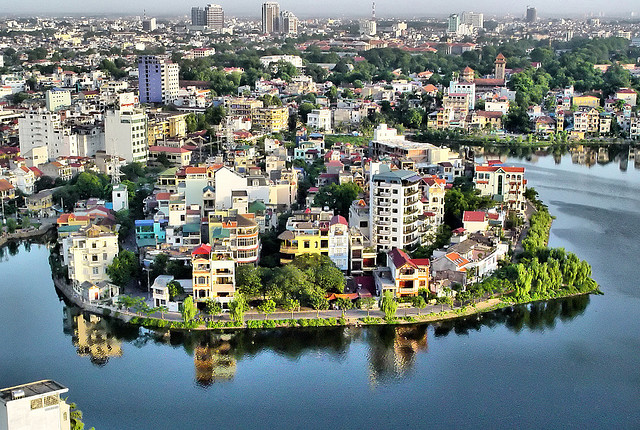 Hoi Ann
The ancient trading port below Da Nang is now a tourist haunt (bit of a rip-off but a fun one).  There once was a Chinese influence but skip the allegedly "ancient" Chinese houses.  Enjoy the ambiance.
Nha Trang
Said to have the most beautiful beach in Vietnam (beaches throughout the country rival Hawaii), Nha Trang is where tourists now go. Three and 4 star hotels are numerous (Korean money financed); 50 forested islands offshore may be visited.
Da Lat
Up in the highlands where fewer tourists go, the French influences are returning.  Built around a 7 km artificial lake, the town played host to wealthy foreigners escaping summer heat.  The Switzerland of Vietnam, Da Lat is somewhat difficult to reach.  Visit the last emperor's (Bo Dai's) summer palace.
Noticeably absent: 
Skip the War stuff (Cu Chi tunnels, the DMZ, My Lai, war museums).  That was 50 years ago.  Few in Vietnam remember the War (it's a youthful nation).  Tunnels induce claustrophobia; the DMZ is grown over; My Lai and the museums were designed by North Vietnamese who wish to make Americans, Australians, and others beat their breasts, guilty about their countries and their countrymen.  Rank-and-file Vietnamese like Americans.  Conversely, many harbor negative feelings about the Viet Cong, terrorists who committed far more atrocities than Americans every came close to thinking about.  The War stuff seems outmoded now, covered with dust, dinged up, good only for the propaganda machine.
The biggest heresy? 
 Skip Ho Chi Minh City (still Saigon to most), or limit yourself to two nights.  The French influences (except for a few drive-bys) are gone.  It's the only place where you may be swarmed by beggars.  And, there are 10 million motorbikes in a city of 7 million – one of them waiting to run you down.
By: Douglas Branson
Photo 1:tartdotnet, Photo 2:Asiacamera, Photo 3:James T McArdle, Photo 4:Man+machine, Photo 5:jtdiego, Phot 6:xepht, Photo 7: James Leckie, Photo 8: Warhanek, Photo 9:tph567