The long haul routes like the Kangaroo Route can be brutal to endure for those who fail to plan adequately. Follow these tips to ensure an enjoyable experience on the Kangaroo Route for those travelling on a budget.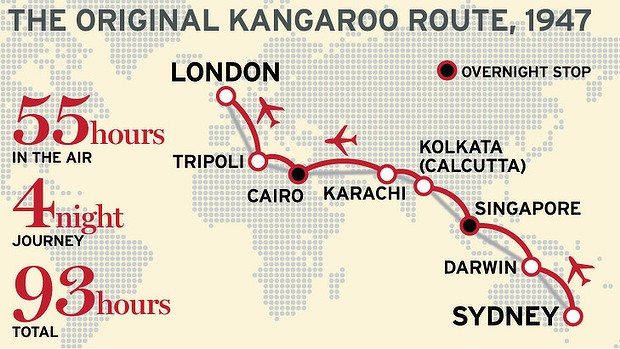 Get the Right Seat
This is perhaps the most crucial component of ensuring an enjoyable trip to Australia. Sitting on an aircraft for a day or more is enough to sap the strength of even the most resilient traveller. The experience becomes much more enjoyable when passengers have enough legroom to stretch out a bit. It is a great idea to try and get a seat in an exit row or at the bulkhead. These seats usually offer passengers a little more legroom than the other seats in the coach compartment.
However, be sure to take a good look at the seat map using SeatGuru or a similar website when picking out an exit row seat. If it is near the bathroom, it may not be worth sitting there for the extra legroom as the bathroom is sure to get used quite a bit. This is especially true of economy class, simply because there are more people cramped into a smaller space.
Getting these good seats ahead of time sometimes requires paying a little extra, but if comfort is your thing, it will be worth it. You can compare the prices of flights to Australian cities like Perth, Brisbane, Sydney and Melbourne here. Keep an eye on the seating charts for your flight particularly as the departure day approaches. If the good seats are starting to fill up, then it is worth it to pay the extra money to ensure getting a good seat for the long flight. However, it might be possible to get one of the exit row or bulkhead seats for free by checking in as early as possible for the flight, which is usually 24 hours before departure.
2. Check Airline Ratings
When making any longhaul flight, like the Kangaroo Route, it is crucial to go with a quality airline that doesn't sacrifice comfort by cramming passengers into their aircraft like sardines. Make sure to check airline ratings to find an airline that gives their passengers a fair amount of room in their seats. There are plenty of low-priced airfares available for quality airlines.
3. Book Off-Peak Times
One of the best air travel tips in the travel industry is to book flights during off-peak times. This gives two benefits. It allows passengers to have ample room during their flights, and it also allows passengers to get their fares for the lowest prices.
4. Prepare
Make sure to get the body hydrated before leaving on the Kangaroo Route. A long period of air travel is sure to dehydrate the body. This is one of the major factors in jet lag. The effects will not be as severe for those who come into their flights well rested and well hydrated. Also, it is a good idea to bring some sleeping aids along for those who are making night flights.