While many brides dream of the perfect white wedding, others want to head overseas and choose one of the best destinations around the world for their nuptials.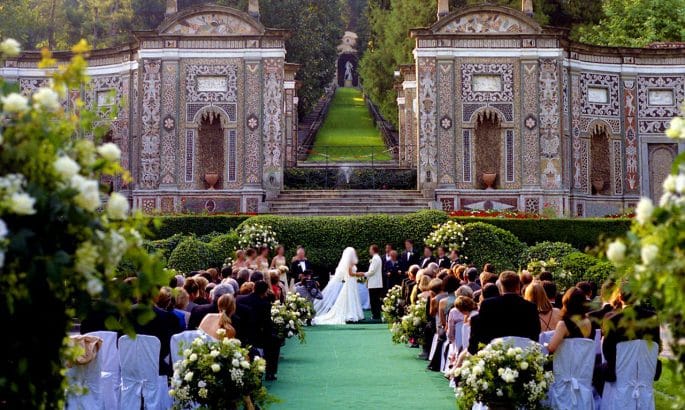 Most of these will be on a sun kissed pristine white beach, for instance Jamaica has always been a popular choice for brides and grooms and they only have to live on the island for 24 hours before being granted a marriage license.
However, wedding destinations don't always have to be on remote beaches with many people opting to get married in mountains or in an ancient castle.
For this, brides should head to Italy there is a wide choice of wedding locations including castles, villas and the great venues in the Alps; it's also possible to get married on the shoreline of Lake Como.
Choose the wedding attire to suit the climate
Whatever the destination that is chosen, the bride and groom should choose their wedding attire to suit the climate and the environment so wedding dresses created for the depths of a British winter would be unsuitable for a tropical beach, for instance, even if it was a dazzling Amanda Wakeley creation!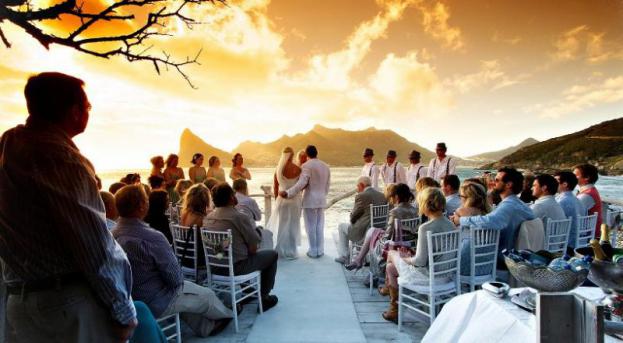 source: here
Some brides may also choose to get married on safari in South Africa which is a great choice for potential brides who can still wear stylish wedding dresses with private game reserves offering an unbeatable location and stunning views across the gorgeous plains of Africa.
Indeed, South Africa is a great choice for those who love to adventure outdoors and it is becoming increasingly popular with a great range of destinations including mountaintops.
Again, for brides and grooms who lead outdoor lifestyles it's understandable that they will want an unusual wedding setting and these could include having a wedding on a volcano or in a rainforest.
If these last two ideas appeal to a bride-to-be and her groom, then Costa Rica could provide the wedding of a lifetime for those who love the outdoors and nature.
Brides can get married in historic cities
Having mentioned castles already, brides can also get married in historic cities and Croatia offers a long list of undiscovered gems with some real treasures to be found in coastal towns.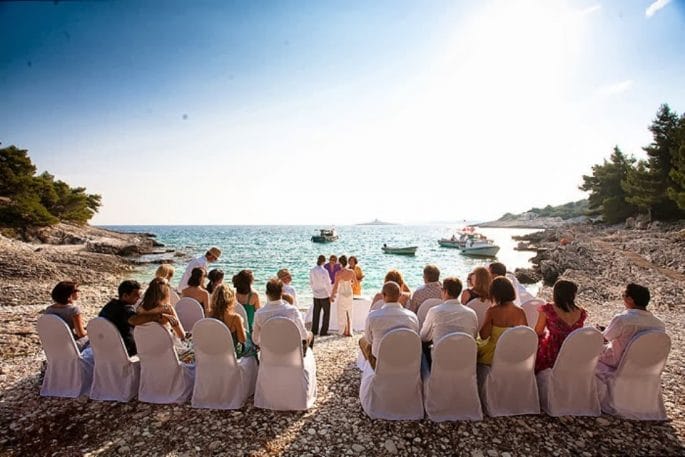 source: here
It's also a cost-effective exercise to get married in Croatia with excellent facilities and friendly people helping to make a dazzling wedding come to life.
However, along with Jamaica, there's a number of other destinations that have been a hit with brides for several decades and they include Mauritius and the Seychelles Islands.
Indeed, the Seychelles offers massive granite boulders on some of their beaches to make it a unique destination and there are some excellent hilltops that overlook the sea for a dreamy wedding location.
For those who want to enjoy some good old fashioned British charm in a wonderful destination and excellent warm weather, then the clear waters and pink beaches of Bermuda should be top of their list.
In addition, there's lots for wedding guests to do with a wide range of activities in a stunning location.
Bride's wedding dress will need to be suitable for the warmer climate
The bride's wedding dress will need to be suitable for the warmer climate and some designer wedding dresses will help meet this need, particularly from the likes of the aforementioned Amanda Wakeley.
Finally, there are other destinations that are growing in popularity for weddings and these include the likes of Sri Lanka, which is regularly voted as a favourite with brides to marry there, and Cyprus has been a popular choice for brides for many years.
Indeed, the goddess of love, Aphrodite, a said to have been born on the island and with year-round sunshine it is possible to have an impressive wedding in a lovely hotel or on a stylish yacht.