Many have commented on my previous Mauritius holidays drafted in earlier posts on this blog where I had my first experiences on the island. Since then and after your questions on whether or not Mauritius is a good destination for celebrating a wedding or honeymoon trip, I decided to focus this post on that pretext. If you are thinking of getting married in a special way or you do not have a destination for that trip of your lifetime, definitely Mauritius is your destination.
You will be surprised to know; personally I was surprised live every afternoon on the beach while enjoying the sunset on Mauritius, a bride and groom appeared with a photographer to capture the most beautiful moment of the day in their lives. It sounds cheesy, I know, but if you had been there you would have felt the same way.
Getting married in Mauritius is really simple. They take almost anything and also in most of the hotels have wedding packages that you can customise to your tast. In the Dinarobin Hotel Golf & Spa they also put at your disposal a wedding coordinator, who appears similar to a wedding planner (but from the hotel) so you won't have to worry about anything else other than enjoying the moment.
Most of these packages include basic and legal costs (affidavit and Supreme Court registrar, administrative expenses ) and travel to the record, while the Dinarobin Hotel Golf & Spa offer 'extras' to be considered as the holding a single link per day, luxurious touches such as champagne , flowers, chocolates , gifts from the guests … and everything you can imagine. You ask for something and they will do everything possible to grant it.
Well, tell me, what do you think can be the biggest advantage of getting married in Mauritius? Obviously the honeymoon. Whether or not it is a luxury to wake up the day after your wedding and receive an Ayurvedic massage and your partner to help you relieve the stresses of the day before? Yes, "I do ". So "the most beautiful spa of Mauritius" will help you feel like a queen (and king, sorry, I always forget ) with its beautiful surroundings and its famous Clarins products which , admit it , we are all addicts.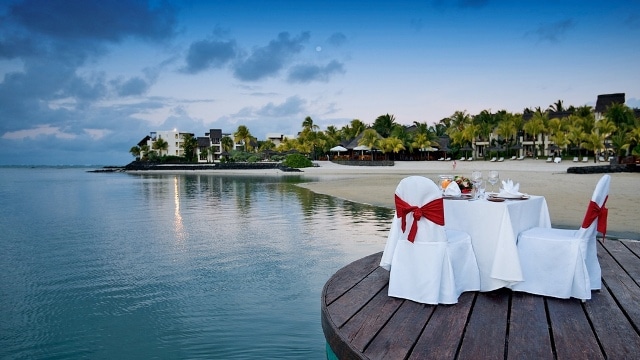 Honeymoons are to enjoy, to relax, to get lost. So in addition to the spa , you know that at the Dinarobin Hotel Golf & Spa , you can have at your disposal four fantastic restaurants serving local and international cuisine to savor the best of the island. Be advised by your friendly chef, I recommend the freshest fish of the day and the best taken.
Travel Guide Mauritius:
• How to get there? Air Mauritius , winning for the fourth consecutive year by the Association World Travel Awards as " the best company in the Indian Ocean " with its friendly staff , renewed fleet and onboard services and menus , directly fly to Mauritius from London , Paris, Milan , Frankfurt , Munich and Geneva . Their prices range from 1,000 euros.
• How to move? Find different tours that organise all kinds of views, it's best to check directly with the hotel. A taxi to take you around the island is another good option, though, of course, more expensive.
• Practical information: You do not need special visa to enter Mauritius and not mandatory vaccines. Local time is GMT +4 .
• When to go? Any time of year is great to visit Mauritius, although at Christmas everything is a bit more expensive and the months of January through April are humid and hot.
• Beachcomber: The luxury hotel company offers wonderful hotels in Mauritius and Sheychelles .
• More information: On the website of the Office of Tourism in Mauritius find all sorts of details.
Photos Sun Resorts