Have you ever gone Kerala houseboat cruise on breathtakingly beautiful backwaters?
If you haven't, you should try out a Kerala houseboat cruise through the scenic backwaters experiencing the mind-blowing view of canal systems and endless lagoons, Paddy fields, fishing in backwaters, small houses on small stretch of land below sea-level.
No Television, No Phone to disturb you. You just sit back, relax and enjoy the beauty of God's own Country the scenes in a Kerala countryside in a backwater cruise -skim past Chinese fishing nets, bowed down paddy fields, local inhabitants engaged in making coir products, rustic homes and swaying coconut palms. That sums up a Kerala Houseboat cruise experience for you.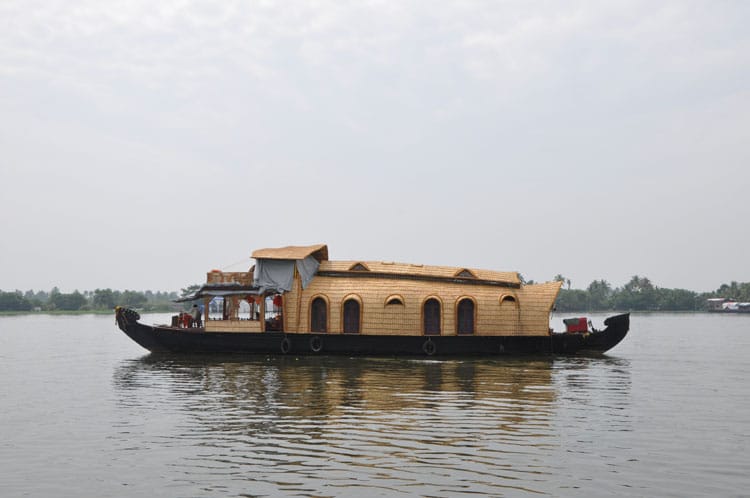 The best time to visit Kerala is during the winter months (December – February), when the weather is hot, sunny and dry with average 30 degree Celsius (86 F) temperatures. Without experiencing and enjoying a houseboat cruise, the trip to Kerala will not be a complete one. Houseboats in Kerala are equipped with all modern facilities and requirements including a living room, a sunbathing deck, and bedrooms with attached European style bath and a kitchen and you can enjoy an overnight stay or a day cruise.
Talking of a Kerala Houseboat ride, The National Geographic Traveler says, "It is astonishingly romantic to watch the sunset from one kettuvallam among several, while the three boatmen hang lanterns and a pearly glow fades behind the scrim of palms… Waking at dawn, we find ourselves surrounded by hundreds of fishermen's skiffs on immense Vembanad Lake. It's like time travel into a quiet morning of another century."
Kerala backwaters are a unique nature and are found nowhere else in the world. Backwaters are a network of lakes, canals and estuaries and deltas of forty-four rivers that drain into the Arabian Sea. Backwaters of Kerala are a self-supporting Eco-system teeming with aquatic life. The Canals connect the villages together and still used for local transport. Over 900 km of this labyrinthine water world is navigable.
Houseboats in Kerala have a three member crew – a chef, driver & cabin assistants and all meals will be served on board when you book a Kerala Houseboat Cruise. The cuisine is traditional Kerala flavor with the local specialties; delicious local fish which can be caught by you if you try fishing rods in backwaters.
By Irisholidays