No matter how interested your children are in history and other cultures, there's no denying that if you give most ten year olds the choice between a city break in one of Europe's iconic cities like Rome, Paris or Istanbul and a week by the beach that they'll go for the latter.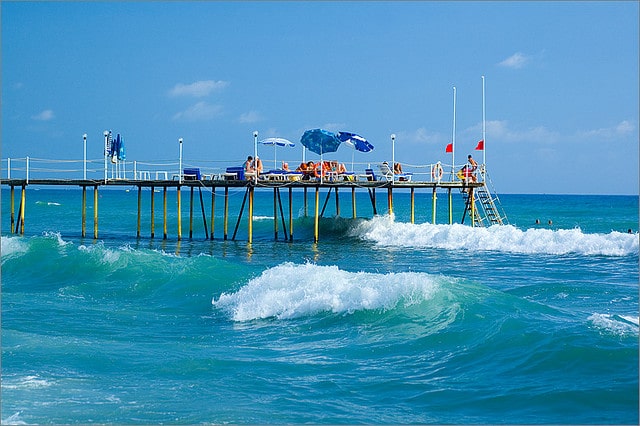 And while you shouldn't always go for the children's choice – if we took it that far every meal that we eat out would be at McDonalds – there's a lot to be said for choosing a holiday that suits your children so that you can all get more enjoyment out of it, when they don't have time to say they're bored.
So where is the best place to take that seaside and swimming pool holiday? Turkey is a great country for this kind of break. Not only does it have beautiful beaches and lovely clear blue waters to swim and splash in but there's also a great choice of resorts that have been built up to provide everything a holidaying family needs.
Popular resorts for all inclusive holidays in Turkey include Bodrum, Marmaris and Alanya.
Alanya is in southern Turkey and has access to some of the most beautiful beaches in the country. Behind them is the amazing backdrop of the Taurus Mountains. The old town has a quaint harbour, lots of towers and mosques. The waterfront area is the best place for eating out and there is a choice of different cuisines here.
Marmaris has always been home to the more exclusive crowd in Turkey, and wandering around the marina you will see some amazing yachts and the people with the lifestyles to match. However, there's plenty of more reasonably priced accommodation here too. This is a good place to be based if you wish to take one of the gulet cruises that Turkey has become famous for.
The Bodrum peninsula is famed for its beautiful coves and its rich history of different cultures and civilizations including the Persian, Roman and Ottoman. Modern day Bodrum has all the tourist attractions a family could wish for, as well as natural beauty and history – offering something for everyone.
If you're thinking of booking a holiday in Turkey, the best advice is to read up on the different resorts and decide which area has most appeal for your family. You can always return to see another side of Turkey another year.
Photo: ymaz_x0