If you're looking to treat your lady to a little something special this holiday season, consider taking her on a surprise trip to Venice in the New Year. The view of those canals will make her swoon, and you'll have the opportunity to spend a few days wining, dining, and sightseeing in one of the world's most romantic cities. Use this guide to make it an amazing trip your lady won't forget.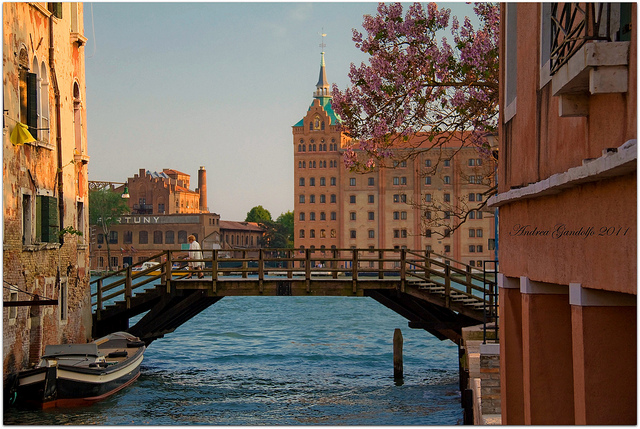 Carnival of Venice 2013
Whilst a lot of the best hotels book up early, the Carnival of Venice, held from the February 2nd to February 12th, is one of Venice's most popular attractions. The tradition, beginning in the twelfth century has grown over the years (despite Mussolini banning it in the 1930s) but still sticks to its eighteenth century links of disguising one's identity with masks, adding mystery, romance and excitement to the whole event.
Ice Skating at Campo San Polo

Take advantage of the chilly winter weather by participating in one of the season's most celebrated activities: ice skating. There's no better place to do it than Campo San Polo, Venice's largest ice skating rink. The rink generally opens from 11am-7pm, but on New Year's Day skaters can enjoy the ice until about 9pm. Skate a few rounds while holding hands with your sweetheart, then check out the market stalls nearby to browse the handicrafts and toast your trip with a cup of wine.
Gondola Rides
It's no secret that the best way to enjoy Venice's romantic canals is by gondola ride. You'll need to bundle up and sit a little closer to your sweetheart on a winter gondola ride, but the picturesque views will make enduring the cold temperatures well worth it. For a truly romantic experience, arrange to take your ride on the narrow back canals—rather than on the Grand Canal—and bring a bottle of wine along with you to toast to your relationship and the year ahead.
Venetian Hot Chocolate
After you and your lady do your Venice sightseeing, head indoors to partake in another of the city's favourite winter traditions: sipping hot chocolate. So thick it's almost a pudding, the Venetian take on this classic wintertime drink is richer and more delectable than any hot chocolate you've ever tasted. If you're lady is a chocoholic, treat her to a cup at Caffe Florian in St. Mark's Square—or really just about any coffee shop in the city.
While off-season prices in Venice are more favourable for tourists, coming up with the cash to take a trip just after Christmas can be a challenge. Unsurprisingly prices soar in February for the carnival, so to take this into account, Sell your stuff on musicMagpie to generate the funds you need to extend the holiday cheer—and romance—into the New Year.
Photo :Andrea Gandolfo