The total journey covered most of the Balkan countries, Ukraine, Moldova, Romania, Bulgaria, Macedonia, Montenegro and Croatia. After Macedonia we headed for the Dalmatian Coast because in this part of Europe most affordable air connections are usually found in Croatia, specifically Dubrovnik. Countries that fall by the wayside such as Albania, Serbia and Bosnia were left out for a future trip. However I did not know when I got up that day, that I would see a small part of Albania in what would be 13 hours of travel for 425km through four countries.
We woke up at the Art Hostel in Skopje at about 9:30 am with our heads slightly dull and a hint of bitterness in the throat caused by last night's cold beers. Zaragoza had trouble reconciling the dates and days because it is not easy to get from Skopje to Kotor road. They may be the most bizarre 425 kilometers in Europe or at least that's the impression I had. The most common way was to cross part of Macedonia, Kosovo Pristinhe through its capital, Montenegro to Pogdoriça and then from there down to the Dalmatian coast, where the tourist towns of Bar, Tivat, Budva and Kotor were, wedged between mountains in the fjord south of Europe.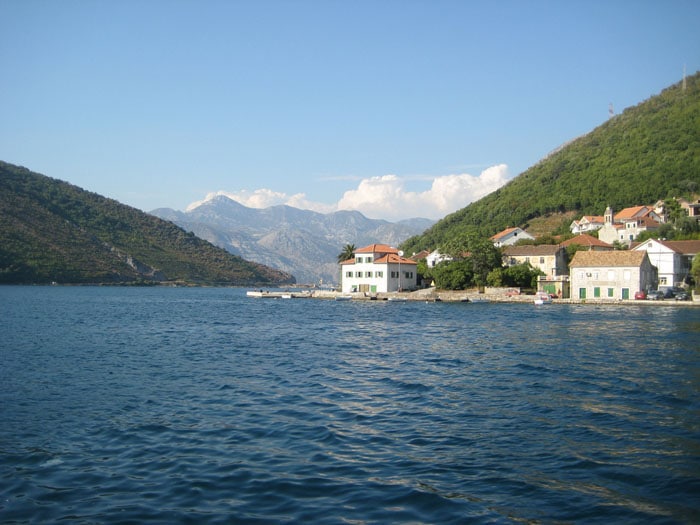 Since it was not too clear how to move through public transport with seven people, I decided to try to hire a van for seven. Contacted by email several companies that looked serious and decided on www.macedoniarentacar.com.mk which offered me their services at the budget of 420 euros for 7 people. As total bus tickets costed 50 € per head, the van was not a bad deal.
Andy appeared one hour later than agreed with a smile on his face and little intention of apologizing for the delay. We fit the seven backpacks as we could and we entered into a Renault Transit. I asked about the route and he cryptically told me that we would not go by the agreed route, which was very slow, and he had spoken with a friend who had told him that there was a much faster route through Kosovo and Albania. As soon as I heard we would cross Albania, I looked at him with a little bitterness for all the stories I had heard from the Albanian border crossings. We entered the car and set off northwards.
Gradually we entered the mountainous terrain separating Macedonia from its new neighbor. Andy was telling me from his point of view how he had lived Macedonia during the Kosovo war. In 98 between 25,000 and 300,000 Kosovars were expelled at gunpoint by the Serbian army and abandoned on the border with Macedonia. As Macedonia was by itself very varied and unstable and because of the historical aspirations that Greece, Bulgaria and other neighboring countries claimed Macedonia their own, NATO and the UN decided to intervene.
Andy told me that on the road we would face several Serb-majority people who have not accepted Kosovo's independence and continue flying in their town halls and buildings the old flag. He also told me that he personally did not quite agree with the independence of Kosovo, because he argued that it had always been a legitimate Serbian territory, but also disagreed with the policy of repression that had taken place in Serbia. The truth is that the situation was quite dark and today the independence of Kosovo remains a source of controversy within the UN and NATO, as it is not recognized as an independent country for several nations among which are Russia, Spain or Serbia itself.
We crossed the border without any problems. The road was fairly modern and decent like that of Macedonia. We advanced slowly through the Balkans, crossing rivers and small towns. Between curves and curves of the ruinous road, I fell asleep.
I woke up just in time to see that the landscape had changed and we were out of the mountains. We were in a great plain of yellow fields that stretched in all directions. Andy pointed to his left and told me we were circling the huge U.S. base at Camp Bondsteel. He said he had been there because he had once had to carry an American diplomat to the base from Skopje. I nodded and as one who does not like things, I fell on the seat groggy.
I awoke with a terrible torpor, just to see a sign saying "Pristinhë" and looked at Andy. – Are we in Pristina? -No, it is a town by the same name, but not the capital of Kosovo. I looked puzzled. Andy was lost. We traveled around the one-way streets, no sidewalks and the houses almost glued to the road full of cars and many shops of indefinable style. What surprised me most was seeing a spotless Adidas store in the middle of a ruinous neighborhood, with its blue and white logo, like an op-art as if it had teleported from the center of Madrid to another planet.
In favor of Andy, I must say that Kosovo lacked indications. Throughout the journey the only sign I saw was the one I just mentioned. We circulated for more than an hour from unpaved streets and avenues with a brutal movement to unmarked intersections until we finally left the city on a one-way road without much traffic where we found herds of goats with their dogs and shepherds, donkeys and carts loaded with all kinds of goods. With us being a little hungry, we decided to make our first stop after four hours of traveling, and stopped at a roadside restaurant where we ate the usual crisps, some Cokes and some coffee. A useful fact is that Kosovo's official currency is the Euro so we scratched our pockets for coins that had not had changed.
We continued the journey after asking one of the waiters for directions to the border. Andy smiled at me – "we are on track". I smiled and replied "I hope so". After about 25 or 30 minutes of driving, we started to climb a mountain with nonexistent traffic, and we crossed an Albanian border literally by the hand of God. I'm not well versed in the language that refers Bosnian Serb but after several questions and answers between Andy and the friendly guard, the latter pointed to the road that stretched before us and with correct pronunciation said: "Kaputt".
After crossing, the scene changed again and we were suddenly surrounded by the Balkan Albanians and, to our astonishment, we were shooting on a modern Albanian highway. It seemed that our luck had changed and that we could still go out to dinner in Kotor.
We crossed the gray hills at a good speed, where a sign told us we should deviate from our left, and we began to ascend and descend along and unpaved forest track, following trucks for about five kilometers. The highway was not finished but that would not be the last surprise. When we were descending the mountain side and return to pick up the asphalt, an image got stuck in all our heads. In the opposite direction rose from the dust and pebbles, a gray Mercedes, dusty, old model, particularly popular in the Arab and Middle East, fully loaded with seven or eight members of rigor of the family. At the wheel, a boy of no more than 12 years.
Shortly after we reached a tunnel on the highway and to our surprise there was a caravan of vehicles waiting at the entrance and two policemen regulating traffic. Apparently, being in construction, cars could only cross it every 20 minutes in one direction. Yes, we had to wait. We went down to smoke a cigarette and were surprised to find there, among the mountains, fruit stalls, drinks, clothing and other unusual items. As expected, none of us carried Albanian coins. When we got back in the van I fell asleep.
I woke up exhausted with a slightly twisted neck, to see a one-lane wooden bridge and a traffic light. I asked Andy and he said amiably "I have crossed this bridge several times". "This is the river Bojana. Soon we arrive at the border". I leaned back and let my eyes take on the outskirts of the city of Shkodra. I must say I felt a little sad. Donkeys and children roamed everywhere in the margins of the narrow road. Such images accompanied us on our journey to the border.
We stopped at the border post ugly Shkoder. We gave our passports to the Albanian guards and Andy said in Serbian, that we were some tourists headed to Kotor. I saw Andy stirring 20 euros that the guard rejected. We went ahead and asked Andy what the hell had happened. Apparently the guard asked him for 1 euro per person to cross the border and had told Andy that he had no change. So the guard replied that he did not care and that we went forward. Is the attempt to swindle more rare in history? 20 meters away, another guard stopped us again with a huge smile on his face, looked over our passports, and said something I did not understand. Andy asked if we wanted our passports stamped. Because I was a bit fed up of it all, thinking that we were still in Albania and suspicious to leave our passports in the hands of anyone, I said go ahead. The policeman smiled, greeted us, and twenty meters away a red sign welcomed us to Montenegro.
We walked a few dozen miles down a dilapidated road and after crossing a green and rocky valley opened before us a great sunset over the Adriatic, with the sun about to cross the horizon and the sky losing its last shades of orange to make way at the night.Needless to say it cost us another three hours to get to Kotor, because Andy got lost a couple more times, but the accumulated fatigue and endless view of the people of the Adriatic softened us to a greater or lesser extent till the end of the trip and almost thirteen hours later, and five behind schedule, we waved goodbye to Andy, who pulled back to Macedonia, and crossed the Gateway to the beautiful town of Kotor and disheveled.
By Elsi H
Travel photo 1: nicholah80, Travel photo 2: Terra Bear, Travel photo 3:  photopetros, Travel photo 4: AntLab75