Wanna go shopping for new things and cheap? Approximately 2 hours away from any European capital, Brussels offers many shopping possibilities. To find vintage clothing stores, new designers, comic book stores sweet, 100% Belgian, follow the guide that has the unique Bruxelles photos.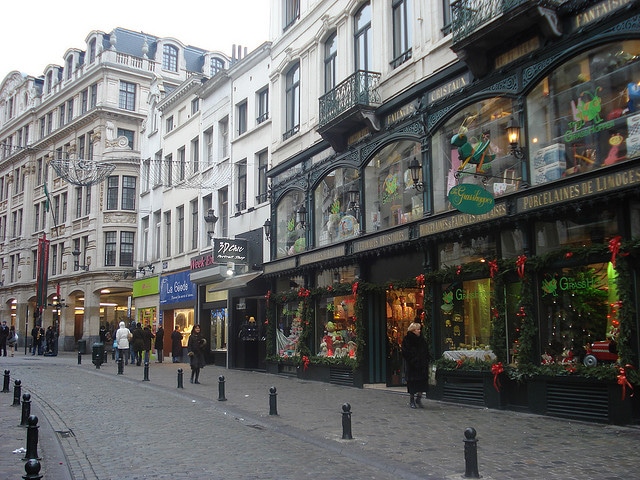 Bargains – both new and second hand items
On weekends, dozens of vendors selling set-up their stands on the Place du Sablon. It's worth giving them a look, you can always find something interesting. Antique shops and designer ones have elected their domicile in the streets adjacent to the Marolles, as street Blaes or street Haute. The Belgians have a real culture of occasion, as the prices are more attractive than ours. Even the "second hand" products are always in a good condition. Following as some places worth visiting:
– Haute Antiques 207: 207 Haute street. An institution. Fifty stands are devoted to the design of the year 50 / 80 placed on 2000m2. The prices, not cheap, but much cheaper than most other European capitals, and you can get hold of original furniture by designers Eames and Jacobsen.
– Re: Use: High Street, 75. Nice selection of design of the twentieth century, Charlotte Perriand, Jean Prouve
– Mouche: Flandre street, 23. A nice shop that combines furniture and accessories for women at competitive prices.
– The dishes per kilo: High Street, 124-126. As the name suggests, it pays for most of the porcelain and glass by weight. These are not junk, but new pieces of the original lines.
Stylish fashion at affordable prices
With regard to fashion, Brussels also offers many opportunities for the vintage. We are far from warehouse stores, where you have to rummage to capacity before you find something interesting. Here the shops are in order, the clothes are often sorted by color range. The offer isn't great, but more specialized clean clothes can be found at bargain prices! I've seen, jackets, French couturiers less than € 50 in a beautiful box. Shoppers will be happy in the trendy Antoine-Dansaert and the streets of Ixelles and Saint-Gilles. For a look a little more conventional, you have to go on the Avenue Louise, the road to Charleroi, and the District of Chatelaine.
The Vintage
– Foxhole: RENARDS street 6, and the Riches Claire street 4. Two locations to find accessories 80 years old.
– Pretty Box: a new vintage shop that already has an address in Paris. Very nice selection for men and women, stylish and affordable.
The Belgian brands
– Olivier Strelli: 72 Avenue Louise and Antoine-Dansaert street, 44. Elegant and casual is the place to discover collections especially for men.
– Essential: Avenue Louise, 66. This brand of Antwerp at a reasonable price, offers a selection of men's, women's and children's sportswear additionally colorful.
– The supermarket of your mother: Avenue Jean Volders 72. This small shop in Saint-Gilles offers unique items (mostly accessories) and hand-made limited edition items.
Belgitude: chocolate, beer, funmetti
In addition to the chocolate shops Godiva, Leonidas, there are other delicious shops to visit.
– Mary: Reine Galleries 36. This chocolate maker has just opened another shop in the galleries. Delicious chocolate and the packaging is very nice.
– Pierre Marcolini: Minimes street, 1. One of the great names of Belgian chocolate.
– Boutique Delacre: Vieille Halle Place at Blés 27. An address that will delight collectors of packaging boxes! Here you choose the assortment of biscuits
– Gold Coast: Petit Sablon Place, 1. This shop opened in 2008 for the 125th anniversary of the brand offers, in addition to its traditional lines, innovative recipes, like chocolate with pine nuts, olive oil and rosemary.
– Cookie Dandoy: Beurre street, 31, Desserts are handmade. Try the spicy chocolate and greek bread, the house specialty.
– The band of six Nez: Wavre Chaussee, 179. Wide selection of new and used comics.
– Boutique Tintin: Colline street, 13. Find all posts by Tintin figurines towels, etc.
– Beertempel: Grasmarkt 56b. If the kingdom of Belgium is the beer, this is its temple! Kriek, Sudden Death, white and still many other specialties.
Useful Information
Where to stay?
Esperance Hotel Finistère Street. Tel: +32 2 219 10 28 beautiful location, restaurant, ultra-modern, quiet rooms. From 68 €.
Where to eat?
– APDM / in Wonderland: Avenue Jean Volders 42 To eat delicious sandwiches. The place has a pleasant terrace in the courtyard.
– AM Sweet: Chartreux street, 4. A tea room where you can also buy chocolate and sweets to take home.
By Elsi H