In the modern era, the Irish holiday of St. Patrick's Day has become one of the best knees up in the calendar year. It's becoming such a phenomena that it now rivals New Year's Eve. Like New Year's, St Patrick's Day offers the perfect excuse to go somewhere different and experience something new.
Here are some of the best places to be on March 14th.
Dublin
Where better than the capital of Ireland? The people of Dublin are not known to do things by halves and this year will be no different. St. Patrick's day has been turned into a four-day festival, starting on Friday 14 and culminating on Monday 17, so there is plenty of time to "soak up" the atmosphere. The highlight for many will be the Festival Ceili, in which you participate in traditional Irish dancing in the streets of Dublin. If that isn't cool enough they have musicians and other street performers performing for the duration of the weekend, as well as the traditional parade and Craft Beer Market. To top it off, all the aforementioned activities occur in the day. At night the place is awash in vibrant green and packed with numerous merry-goers. No place does St. Patrick's Day like Dublin.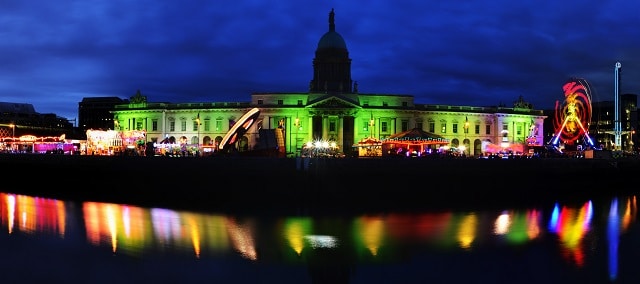 Chicago
Probably the best place in America to celebrate St. Patrick's Day is Chicago and, after Dublin, is the second best place in the world to be on this day. The most traditional aspect of St. Patrick's in Chicago has to be the dying of the river. It is a 50-year-old tradition that never seems to get old, but then, how can an emerald coloured river not raise a smile? It is mesmerising in pictures and breath-taking in real life, especially when you're sharing the moment with 400,000 others. Chicago is a city with a huge Irish ethnicity and a city that is quite rightly proud of its heritage.  When you take into account that Chicago has 2.7 million inhabitants, five times as many as Dublin, you know you're going to have an incredible time.