Pools that seem to bind with the Aegean Sea with views up to where your eyes can see. Greece has magical islands with breathtaking locations that are perfect for a quick, or not, dip in the pool. These are the most spectacular pools of the Aegean, discover them below!
Grace Santorini Hotel, Santorini
Recently included in the list of the best pools in the world, which was organized by the journalists of the prestigious magazine Alto. Indeed, the latter raised it into the 3rd place. Apart from the views offered in the deep blue stands the non conventional design is distinguished by its many angles. The tribute even says that when you swim in the waters you are given the impression that you're flying over the Aegean.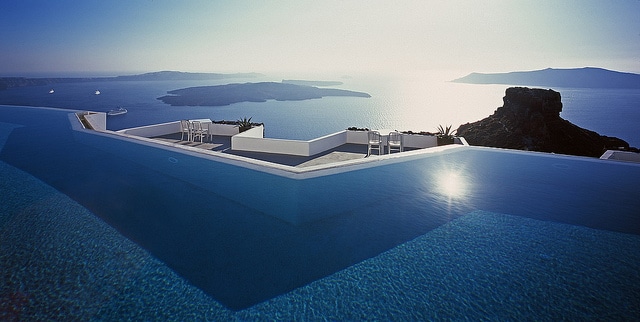 Mystique, Santorini
The scene of the legendary infinity pool is familiar and photographed since it has starred in countless of covers and for a good reason. We are on the brink with a Cosmopolitan in hand, perched in the most famous scene of the island, the cliffs of Oia.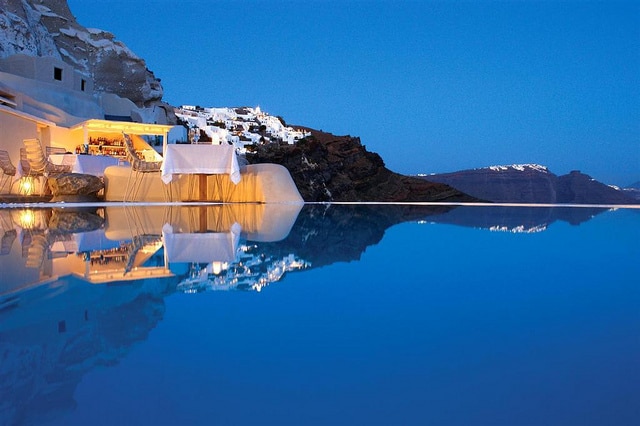 Cavo Tagoo, Mykonos
The infinity pool meets the endless sea and the overflow causes a feeling of fullness. The square wooden platforms, reminiscent of Japanese minimalism, encounter the surface of the pool, so that one feels that he hovers above the water. The pool water changes different colors and works like a magic effect. Soft layers with painted sails fluttering in front of the pool and atmospheric music welcome the lucky visitor in a backdrop of wood, stone, water and cloth.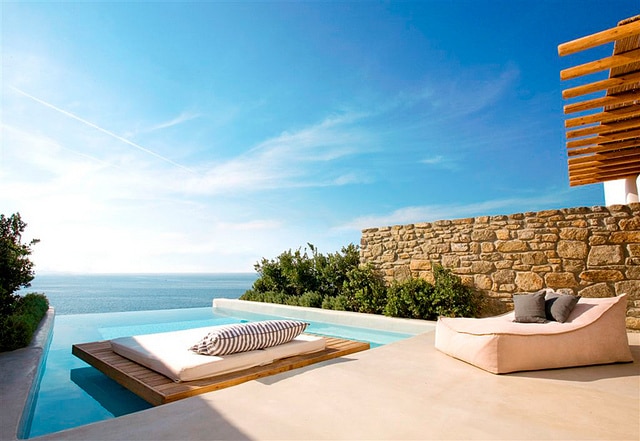 San Antonio, Santorini
Around twenty cave rooms and suites with terraces on the cliff overlooking Oia is this beautiful pool. Dominant color is white with a pop by the blue water and pink flowers.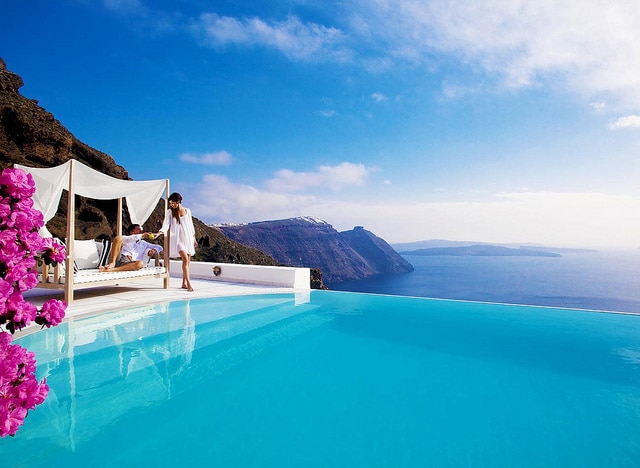 Grecotel Amirandes, Heraklion
The first impression is that everything is floating lightly, that everything is reflected on a water surface. The vast lagoon Amirandes looks like a reverse night sky, illuminated by countless submerged vortices of optical fiber. You will find there the Olympic sized saltwater pool surrounded by palm trees, the children's pool, the indoor heated pool and over 60 private pools.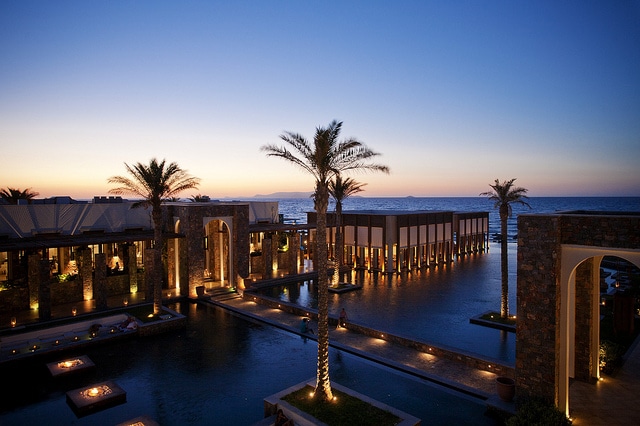 View more here: Summer in Greece | The best beaches in Sporades, The best beaches on the island of Mykonos | Greece.
Aegean hotel pools photos: Alexey Ivanov, San Antonio Santorini, Travelive Photos, Luxury Collection Hotels, Boxdecoblog.